Hodnota nepoškodeného vozidla v USA sa pohybuje od 22 000 až 26 000 USD
Cena dovezeného nepoškodeného vozidla vrátane všetkých poplatkov (CLO, DPH, prihlásenie) – od 36 000 do 40 900 €
Naša cena po minimálnej oprave a dvoch majiteľoch – 33 900 €
Prečo auto od nás?
Každé vozidlo pred dražbou a kúpou preverujeme cez CARFAX. Vyberáme vozidlá poškodené iba raz (aktuálny stav na foto),​ plne pojazdné a v žiadnom prípade nekupujeme autá po povodni!!!
Pri oprave vozidiel používame výhradne originálne diely,​ nie lacné náhrady z Číny.
Vozidlá kupujeme len od poisťovní.
Na každom predanom vozidle vymieňame olej ​aj všetky filtre.
Kvalitné a seriózne služby sú u nás na prvom mieste.
Pre dôveryhodnosť môžete kontaktovať zákazníkov,​ ktorí už jazdia na našich autách.
Ak nájdete lacnejšiu ponuku, kontaktujte nás na +421911221122.
Spoločnosť Autofra s.r.o. poskytuje na každé predané vozidlo ročnú záruku.
VW Atlas: ',Veľký Touareg,, bude len pre USA. Diesel v ňom nenájdete
Volkswagen to v USA nevzdáva. Na autosalóne v Los Angeles predstaví novú posilu – najväčší model, aký kedy za Atlantikom ponúkol. V hierarchii bude však stáť medzi Tiguanom a Touaregom.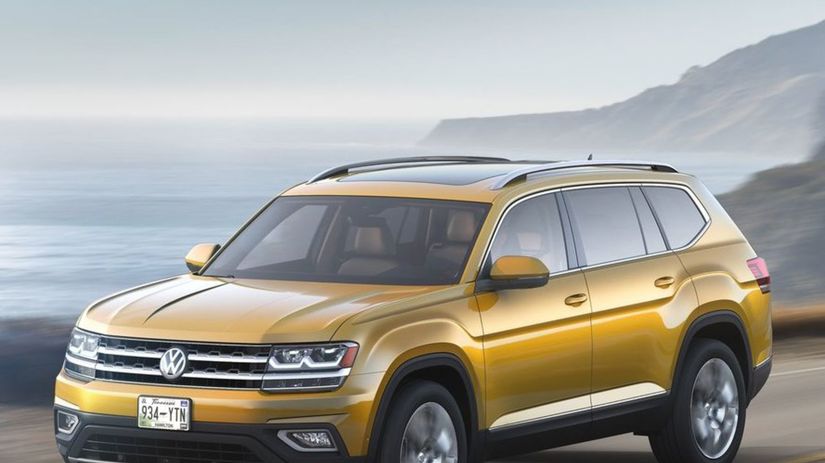 Volkswagen nemá v USA na ružiach ustlané. Kauza Dieselgate naň najviac doľahla práve za Atlantikom. Finančné dopady sú astronomické. No ani predtým sa jeho predaje nevyvíjali tak, ako si predstavoval. Akosi sa nevedel naladiť na vkus Američanov. Chýbalo mu vždy to, čo mali radi. Veľké SUV, veľké MPV aj pikap. Touareg bol na tamojšie pomery malý a drahý a "záchranné" MPV Routan, odvodené z Chrysleru Voyager, zas prepadákom. Američania dali prednosť originálu. A pikap Amarok? Tak ten paradoxne Volkswagen za Atlantik nedovážal. To všetko má zmeniť novinka s názvom Atlas, vyvinutá špeciálne pre USA.
A keďže MPV už nie sú v móde, má podobu veľkého crossoveru. Naozaj veľkého. Atlas má totiž na dĺžku 5 037, na šírku 1 979 a na výšku 1 768 mm. Je teda približne o 25 cm dlhší, o štyri širší a o šesť centimetrov vyšší než Touareg. Ide o vôbec najväčší model, aký kedy Volkswagen v USA ponúkal. A zabiť ním chce hneď dve muchy jednou ranou. Zastúpi SUV aj MPV. Napriek veľkorysému formátu bude však v hierarchii koncernu stáť medzi Tiguanom a Touaregom. A to najmä cenou. Touaregu jednoducho zostane stále punc sofistikovaného, takmer prémiového SUV do terénu, kam sa Atlas celkom nechystá.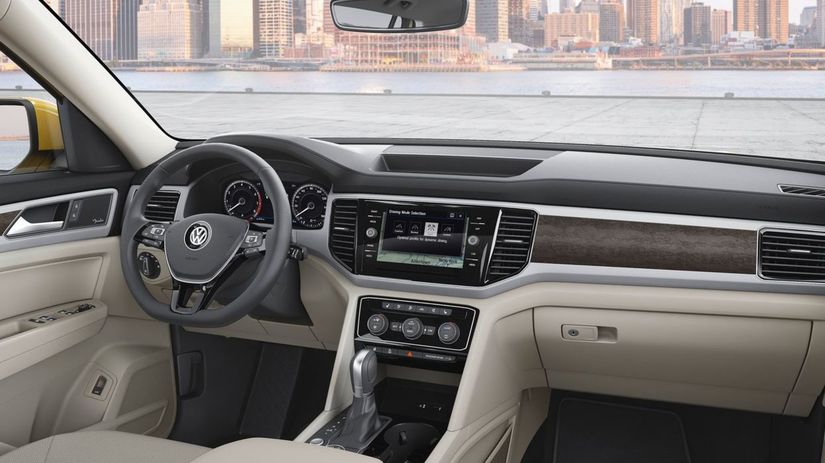 Základom je rozšírená a predĺžená platforma MQB, na ktorej stojí všetko od Golfu až po Škodu Superb a Kodiaq. Dizajn, ktorému predchádzal koncept CrossBlue, vyznáva jednoduché horizontálne línie, typické pre nové SUV od VW. Preto neprekvapí predná maska s dvojicou lamiel zabiehajúcich až do reflektorov, hranaté výrezy blatníkov či zadná časť s praktickým výklopným vekom a svetlami spojenými chrómovou lištou. Úlohou Atlasu je osloviť najmä rodiny. Aj preto ponúkne priestranný interiér, ktorý môže konkurovať akémukoľvek MPV. To znamená tri rady variabilných sedadiel pre sedem ľudí. Posledný z nich bude sklopný aj demontovateľný.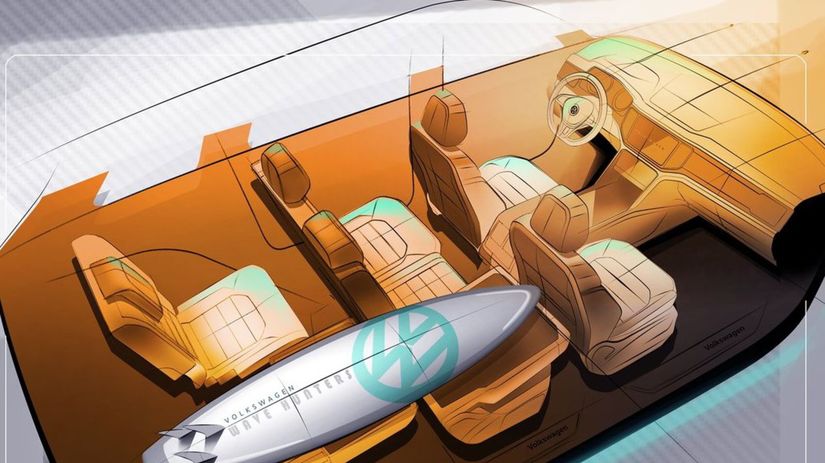 Očakávať môžeme obrovský batožinový priestor, ale aj dostatok komfortu, na ktorý sú Američania zaťažení. Prístrojový panel môže byť nahradený 12,3-palcovým displejom. Pripojenie na internet Car-Net umožní využívať rôzne služby. So smartfónmi si bude Atlas rozumieť cez platformy Android Auto, Apple CarPlay alebo MirrorLink. Za príplatok si budete môcť dopriať výkonnú aparatúru Fender. Nechýbajú asistenčné systémy od autonómnych bŕzd a multikolíznej brzdy až po adaptívny tempomat, monitorovanie jazdných prúdov či výstrahu pred kolíziou. S parkovaním pomôže nová verzia parkovacieho asistentu.
Absencia naftového motora v USA iste neprekvapí. Američania budú mať na výber preplňovaný štvorvalec 2,0 TSI (178 kW) alebo väčší 6-valec 3,6 VR6 (207 kW), ktorý v Európe skončil kariéru spolu s odchodom minulej generácie Passatu a Superbu. Oba motory dostanú 8-stupňový automat a silnejší z nich aj pohon oboch náprav 4Motion prostredníctvom elektrohydraulickej spojky Haldex. S čímsi ako redukčným prevodom alebo pneumatickým odpružení, akým disponuje Touareg, nepočítajte. Toto nie je SUV ani off-road, ale praktický crossover i keď v nezvyklo veľkom formáte.
Atlas absolvuje premiéru na novembrovom autosalóne v Los Angeles. Vyrábať ho budú popri Passate výlučne v americkom závode Chattanooga v Tennessee, do modernizácie ktorého nalial nedávno Volkswagen 900 miliónov eur. Od Atlasu si sľubuje zlepšenie predajných čísiel. Crossovery, označované v USA termínom midsize, kam mieri, majú totiž na tamojšom trhu až 10-percentný podiel. Predaj odštartuje nemecká automobilka budúci rok. S predajom Atlasu v Európe však vôbec nepočíta. A to je možno škoda.
Zdroj: www.auto.pravda.sk